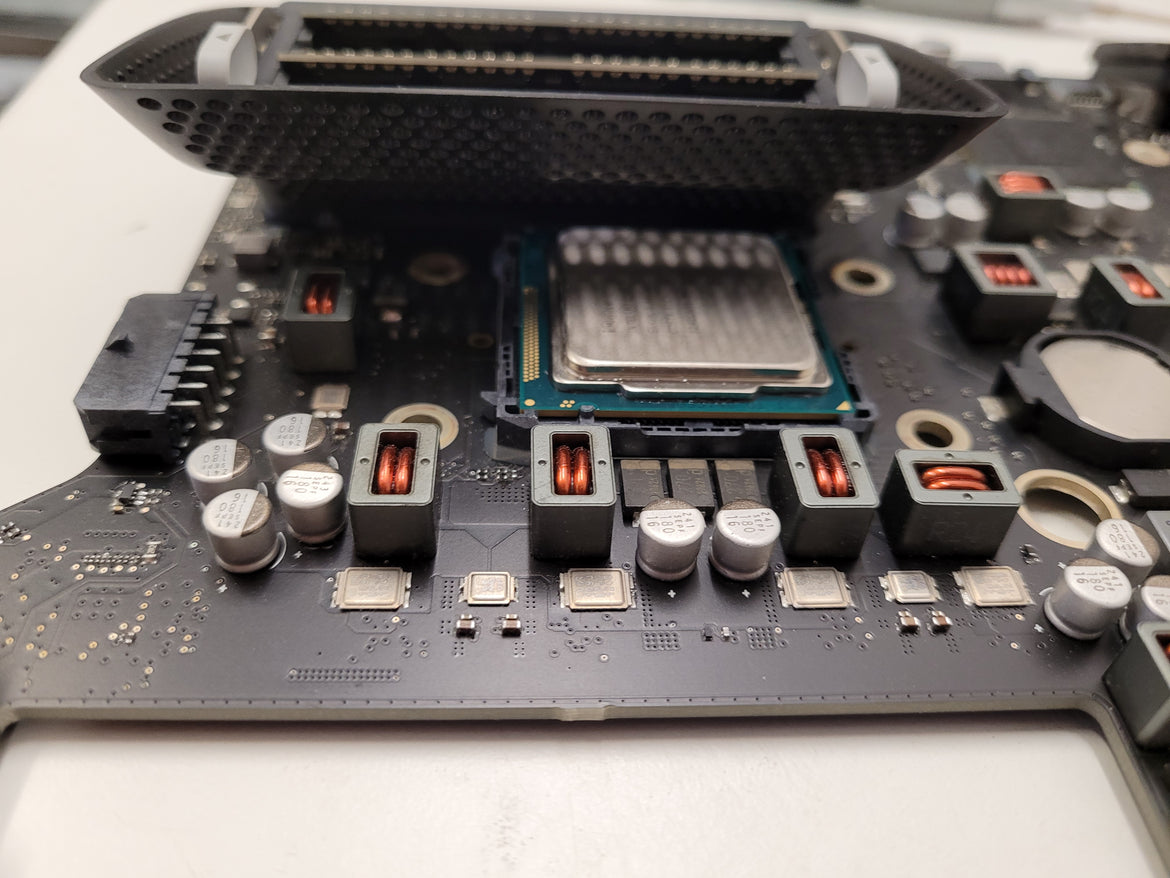 Apple iMac 27" 2015 CPU Upgrade + SSD Upgrade
If you have 27" slimline iMac without the DVD drive, then your machine has the capability to be heavily upgraded!
This 27" iMac has been overhauled, giving it a new lease of life along with an exceptional performance increase!
Originally, the machine was being held back with its slow mechanical hard disk drive (HDD) As the operating system was installed onto that, this caused incredibly long waiting times when it came to logging into the machine and firing up its applications! As the machine was used for video editing, this made it frustrating to work with! The iMac originally came with an i5 processor too, preventing it from reaching its true work capability!
To get the machine running lightning fast, along with improving its editing capabilities, it was upgraded with a 500GB NVME Solid state drive (SSD) and an i7 processor!
The customer's data was backed up via Time Machine! This will grab everything! This includes, data, applications and settings. After the data is then restored, the iMac will be just as the customer remembers!
To carry out this upgrade, the iMac was completely stripped apart! All the components, including the logic board were removed from the iMac chassis. This provided an excellent opportunity to give the machine a well deserved service, cleaning out all of the dust which had built up over the years. The fan was taken apart, cleaned and lubricated to get it running as good as new!
With the logic board removed, now the CPU and the slot for the SSD can be accessed. A 500GB Samsung SSD was fitted. The heatsink was removed from the logic board and cleaned out of any built up dust. The old thermal paste was then cleaned so a fresh layer can be applied. With the i7 processor fitted, the machine can be reassembled and tested! As the customer's HDD was in good condition, this was left in the machine, giving the customer extra storage!
As the iMac was a 2015 model, it was installed with the very latest OS 11.0 Big Sur. The HDD and the SSD were kept separate and not made into a fusion drive, giving the customer control of what gets saved where. The OS and applications were installed onto the SSD for its speed and any data was saved onto the hard disk drive.
Now with the SSD fitted, the iMac starts up in seconds! Any applications open instantly! The i7 processor has improved the work rate of the machine when working on demanding tasks!