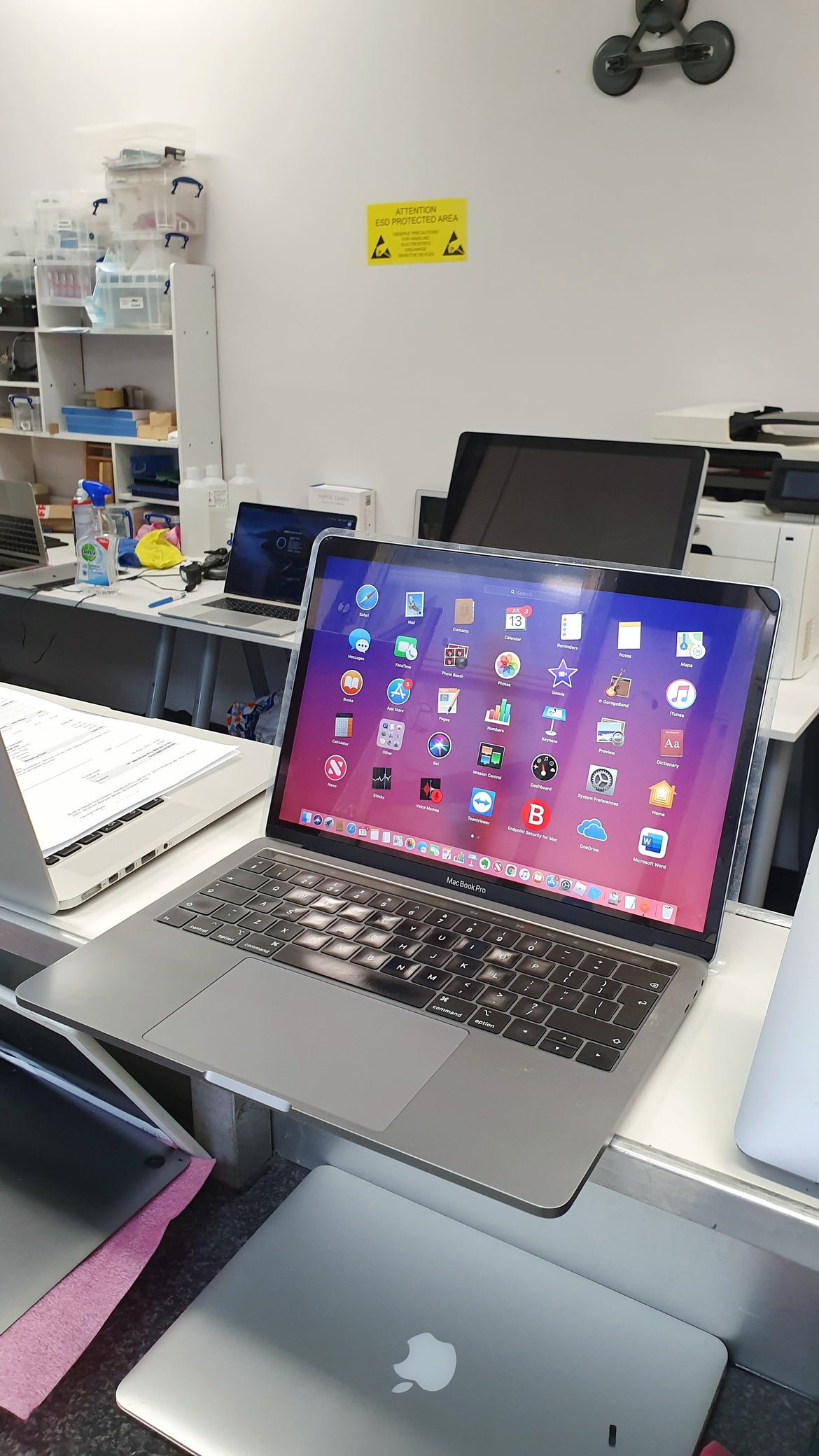 2018 MacBook Pro A1989 - Liquid Damage Recovery
We recieved a 13" 2018 MacBook Pro A1989 which had been in the same bag as an egg which leaked into the MacBook causing an awful mess.
We removed the screen and cleaned up the ingress from all of the cables and the TCON board (Screen control board which is attached to the screen but located in the same housing). Unfortunately the damage had been done to the screen and there were black bands down it indicating an internal fault with the LCD caused by the egg yolk.
We fitted a brand new original screen which got the screen working although after cleaning up the internals we noticed corrosion on the TouchBar controller which is located on a flex cable attached to the TouchBar. Cleaning this up didnt help and the Touchbar was dead.
Rather than replacing the entire top case with battery, keyboard and TouchBar for £400+ we can remove the TouchBar in one piece without breaking it. We then fitted a brand new TouchBar.
We had to remove the logic board and TouchID button.
Once the TouchBar was replaced it powered on OK and displayed icons OK although there was no Touch. No responses to Touch at all!
We can repair logic boards at component level and testing the connector on the logic board for the TouchBars Touchscreen we found it was missing a 5v power line. Although the main screen on the TouchBar had power, the Touchscreen didnt.
Fault finding led us to a corroded Coil which had no continuity on test. We removed this bad coil, cleaned up the pads removing corrosion and replaced it with a more expensive low amperage fuse.
5v was then at the Touchscreen connector and after rebuilding the MacBook the Touchbar has Touch response again!